Konjac Noodles, also known as Shirataki Noodles, are a lovely type of noodles made precisely from the konjac plant. Their particular benefit is that they are almost calories free, as konjac is composed by glucomannan, a type of fiber that comes from the root of the konjac plant.
Thanks to that they are particularly filling, and contain only an average of 12 calories per 100 grams! I guess now you understand why I love them.
They taste great and are quite versatile, here I'm proposing you a recipe that is very well balanced in terms of protein (due to the soybean sprouts) and rich in vegetables.
A sort of perfect vegan recipe if you want to stay light, and if you are on a weight reduction regime. I only use extra virgin olive oil for cooking, as I deem it to be the healthiest vegetable oil, so no saturated fats in this recipe, just to add to it benefits! You can find them easily while grocery shopping, or find them here straightaway 🙂 !
I recommend you drink a good glass of water with it, as it is important to ensure you drink plenty of liquids while having any sort of glucomannan based products.
Konjac Noodles recipe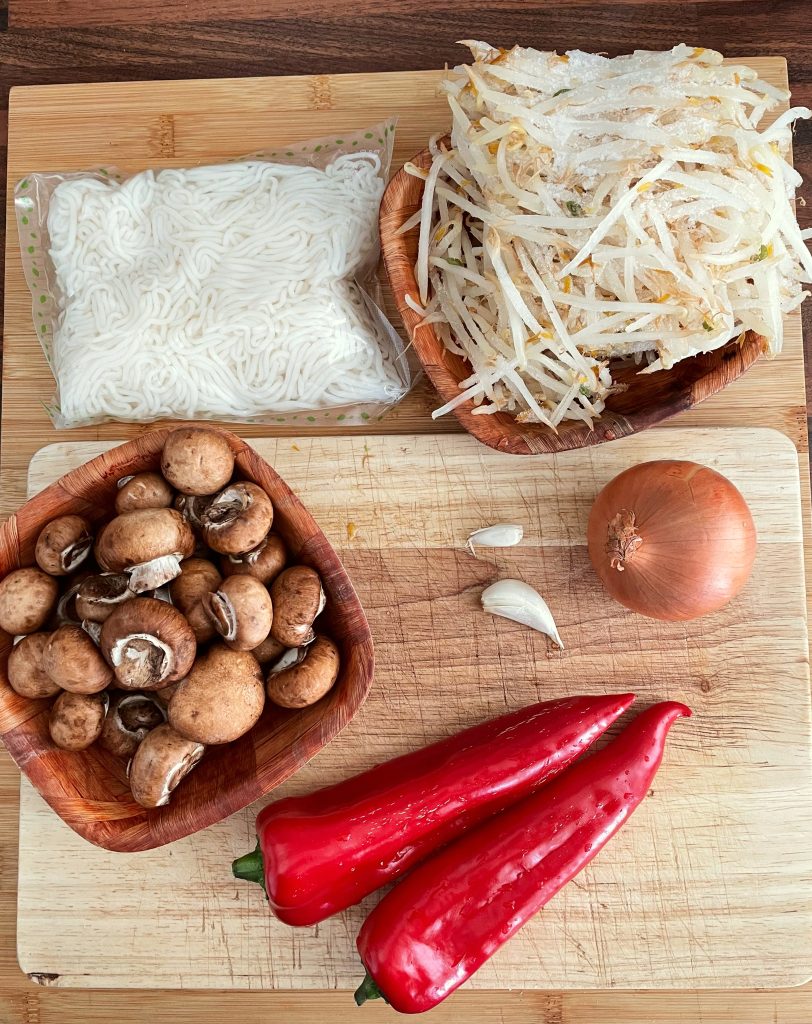 Serves 2
40 minutes recipe
Ingredients:
Olive oil
Soy sauce
1 Garlic clove
1 medium onion
2 long red peppers
200gr soybean sprouts
200gr chestnut mushrooms
100gr konjac noodles
Preparation:
For this recipe I'm using wet noodles, which are ready to add to the stir-fried ingredients. If you are using dry ones, just boil them for 5 minutes, drain them, and then add them in the pan at the right time.
Put the evo oil in the pan and then add the garlic and the onion and let them brown slightly. On the side prepare the sliced peppers, the chopped chestnut mushrooms, and the soybean sprouts.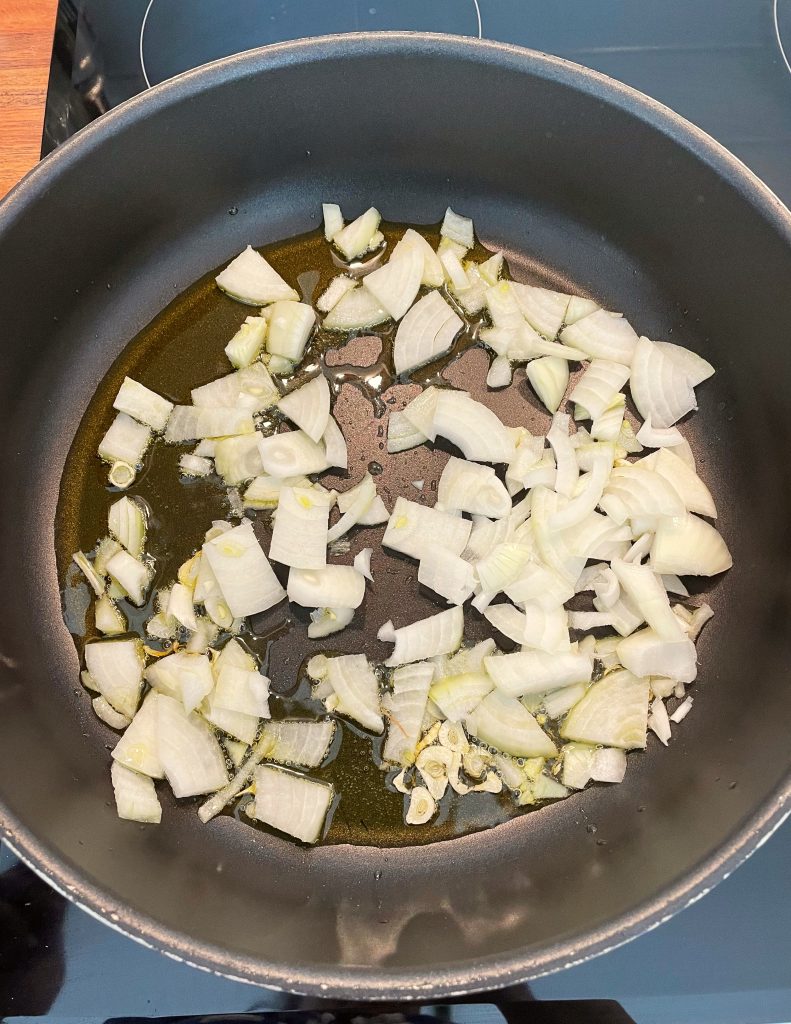 When the onion is tender, add the sliced peppers and let them go on a medium fire for a couple of minutes.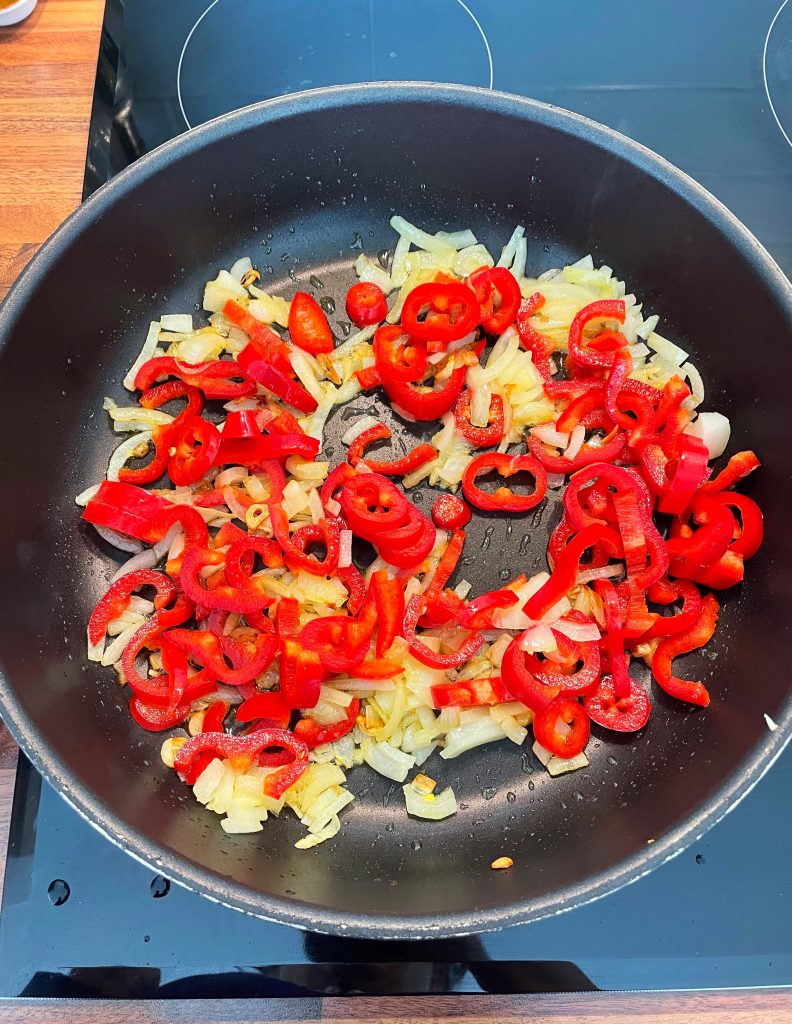 Then add the chopped chestnut mushrooms, and cook for 5 minutes.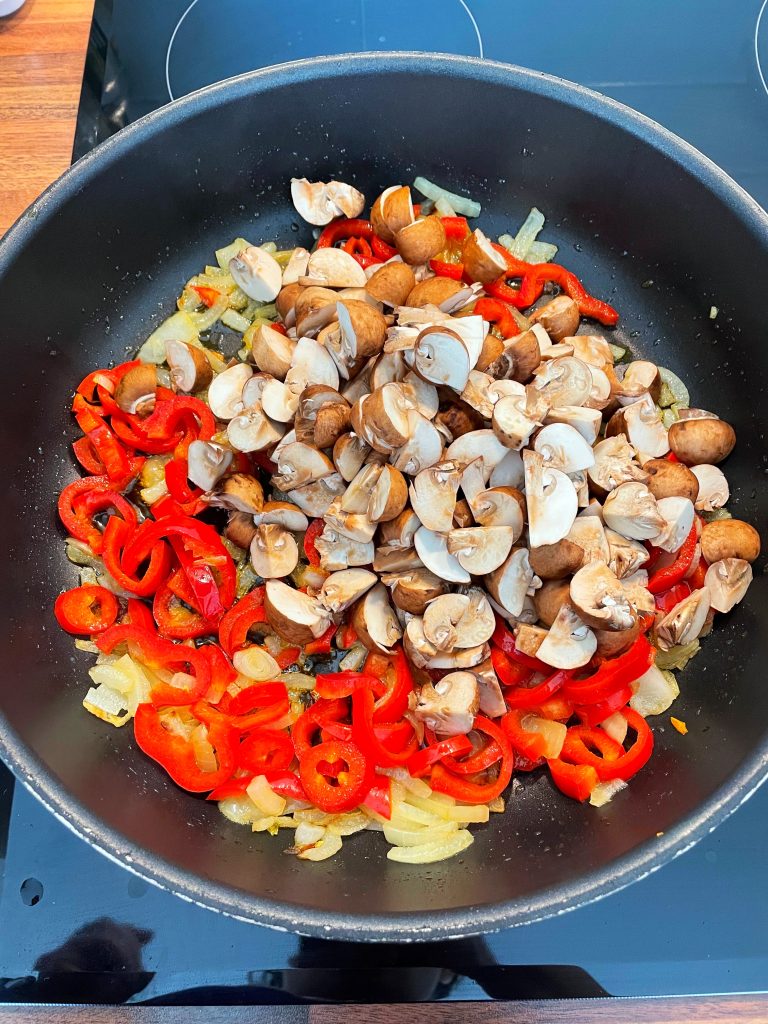 At this point, when the mushrooms have released their water, add the soybean sprouts, and a good splash of soy sauce, and stir fry for a few minutes.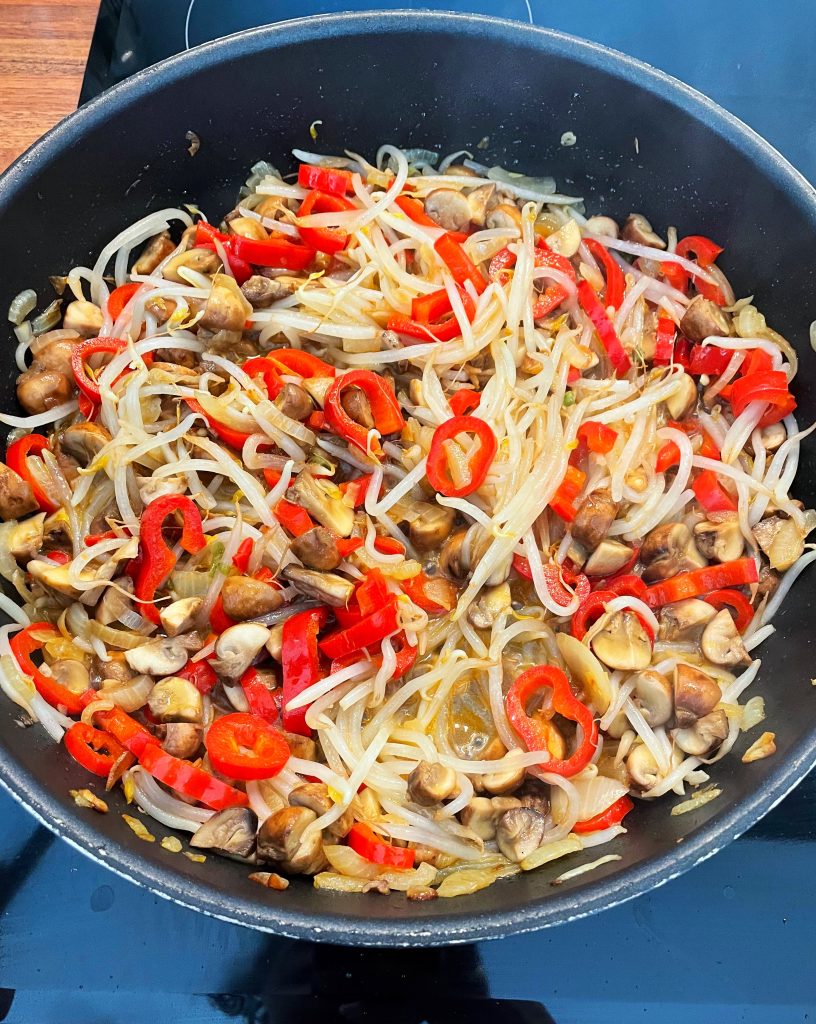 When the sprouts look tender, and have absorbed the soy sauce, add the drained konjac noodles.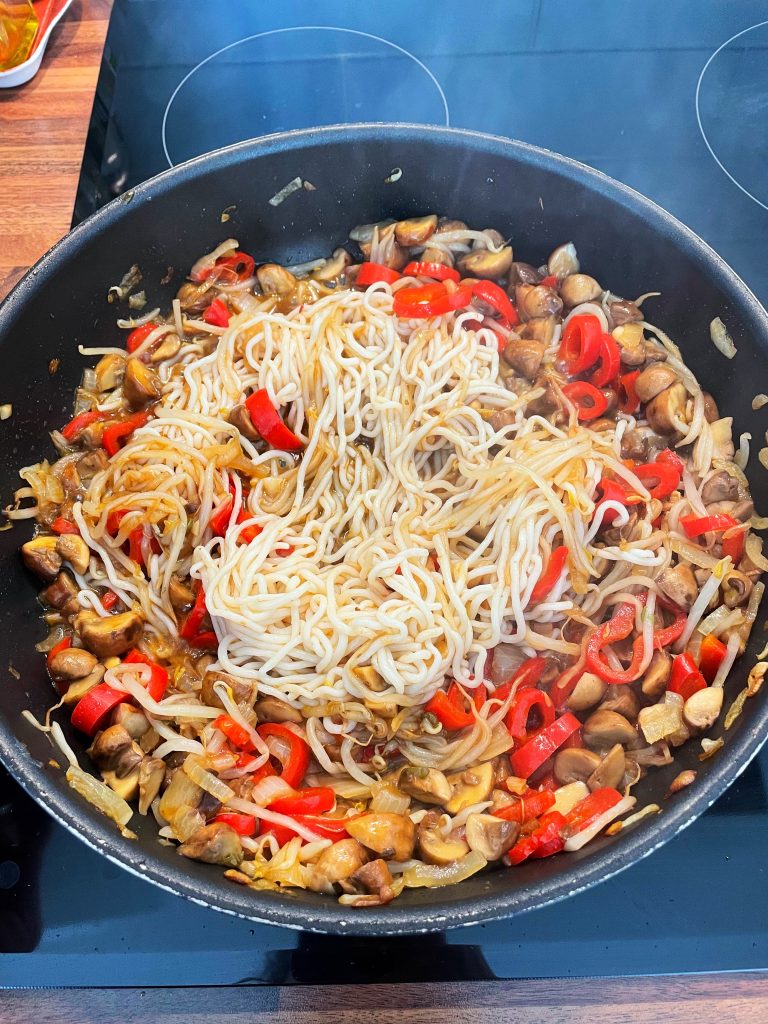 Cook for another 3 minutes, adjust with a bit of soy sauce if needed (I like to add a splash of sesame soy sauce which add a nice nutty flavour and a slighter creamier texture) mixing well and sautéing the ingredients.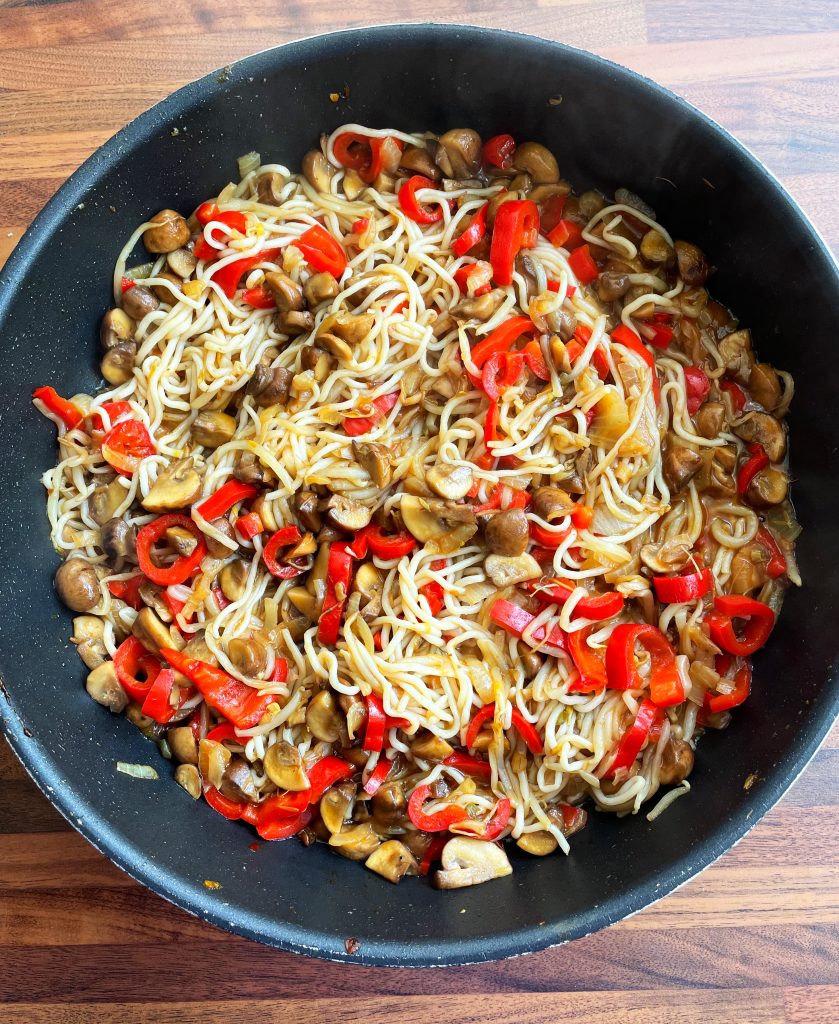 Serving
Take out your favourite noodle bowl, and serve! You might add a bit of crushed chilly peppers if you like, and there it is your konjac noodle ready to enjoy!
Did you like this recipe? Let me know in the comments! If you fancy trying another oriental style recipe, have a look at my Oriental stir fry Rice recipe!